1. O TABERNÁCULO
a)

http://www.ebibleteacher.com/images/taberover.jpg

b) http://ebibleteacher.com/batlasweb/sld024.htm
1.1 O VÉU (ou, CORTINA)
1.1.1
No
TABERNÁCULO
(assim como no TEMPLO
http://ebibleteacher.com/batlasweb/sld025.htm
)
, havia um
VÉU
que FAZIA a
SEPARAÇÃO
entre o
LUGAR SANTO
(Holy Place)
http://www.ebibleteacher.com/images/tholy.jpg
e o
SANTO DOS SANTOS
(Most Holy Place), conforme Êxodo, cap. 26:
- "Exodus 26
33 And thou shalt hang up the vail under the taches, that thou mayest bring in thither within the vail the ark of the testimony: and the vail shall divide unto you between the holy [ place ] and the most holy.
34 And thou shalt put the mercy seat upon the ark of the testimony in the most holy [ place ]."

- "Êxodo 26
33 Pendurarás o véu debaixo dos colchetes, e levarás para dentro do véu a arca do testemunho; este véu vos fará separação entre o lugar santo e o santo dos santos.
34 Porás o propiciatório sobre a arca do testemunho no santo dos santos;"
1.2 O SANTO DOS SANTOS
1.2.1
O "
SANTO DOS SANTOS
" era um lugar pequeno atrás da
CORTINA
(
Véu
) no
TABERNÁCULO
bem assim no
TEMPLO
, onde a presença de Deus permanecia; às vezes, chamado de
SANTUÁRIO
.
1.2.1.1
ARCA DA ALIANÇA
Arca da Aliança - (Ark of the Covenant)
• A Arca da Aliança (http://www.ebibleteacher.com/images/arkgold.jpg ) era guardada no Santo dos Santos
(*)
1.3 O SUMO-SACERDOTE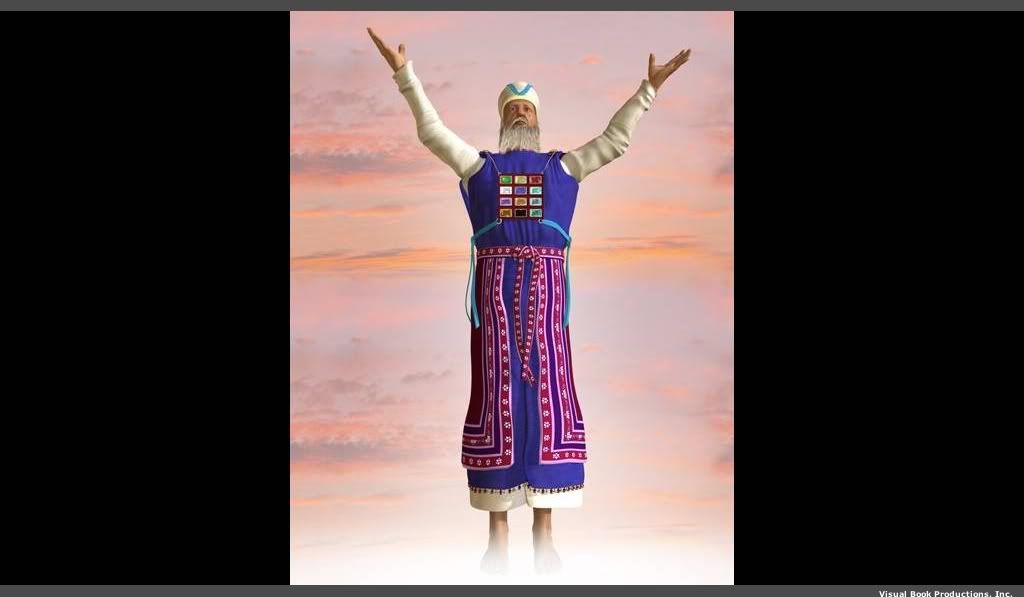 1.3.1
O
SACERDOTE
http://www.ebibleteacher.com/images/hpriest.jpg
era pessoa que
SERVIA COMO

MEDIADOR
entre
DEUS
e as
PESSOAS
.
Apenas o sumo-sacerdote podia entrar no "Santo dos Santos" e somente uma vez por ano no Dia da Expiação
. (*) (cf Levítico 16:1-34; Hebreus 9:1-20)
 NOVO TESTAMENTO
2. O VÉU do Templo RASGOU-SE
Modelo do Templo de Herodes - (Model of Herods Temple)
2.1 O Véu do Templo rasgou-se em dois, de alto a baixo (Mateus 27:51; Marcos 15:37,38; Lucas 23:45)
- "Mark 15
37 And Jesus cried with a loud voice, and gave up the ghost.
38 And the veil of the temple was rent in twain from the top to the bottom."


- "Marcos 15
37 Mas Jesus, dando um grande brado, expirou.
38 Então o véu do santuário se rasgou em dois, de alto a baixo."
2.1.1 O "

RASGAR DO VÉU

" => Um

ATO SIMBÓLICO

indicando

LIVRE ACESSO

a

DEUS

, pelo

SANGUE

de CRISTO
a) O
VÉU
, que vedava o Santo dos Santos, "
foi um ato simbólico de Deus, indicando o LIVRE ACESSO a Si e ao céu pelo sangue de Cristo (Hb 10:19, ss...",
(segundo nota de rodapé da Bíblia Vida Nova) (grifei).
b) Podemos, pois,
ENTRAR TAMBÉM
, no
SANTO DOS SANTOS
2.2 O SUMO-SACERDOTE
2.2.1 Registre-se, ainda, que

JESUS CRISTO

é o PERFEITO

SUMO-SACERDOTE

(Hebreus 7:20-28; 9:11-28; Cap. 10)
2.2.1.1
"Jesus atuou como o perfeito sumo-sacerdote ao entrar no Santo dos Santos pela última vez quando ofereceu sua própria vida pelos pecados do mundo."
(*)
2.2.1.2 LOGO,

Ele

é o nosso

ÚNICO MEDIADOR

junto a

Deus

(1 Timóteo 2:5,6; 1 João 2:1)
- "1 Timothy
5 For [ there is ] one God, and one mediator between God and men, the man Christ Jesus;
6 Who gave himself a ransom for all, to be testified in due time."

- "1 John 2:1 My little children, these things write I unto you, that ye sin not. And if any man sin, we have an advocate with the Father, Jesus Christ the righteous:"

- "1 Timóteo 2
5 Porque há um só Deus, e um só Mediador entre Deus e os homens, Jesus Cristo homem.
6 O qual se deu a si mesmo em preço de redenção por todos, para servir de testemunho a seu tempo."

- "1 João 2:1 Meus filhinhos, estas coisas vos escrevo, para que não pequeis; mas, se alguém pecar, temos um Advogado para com o Pai, Jesus Cristo, o justo."
2.2.1.3 Ele é

SUMO-SACERDOTE

que se

COMPADECE

de nós (Hebreus 4:14-16)
- "Hebrews 4
14 Seeing then that we have a great high priest, that is passed into the heavens, Jesus the Son of God, let us hold fast [ our ] profession.
15 For we have not an high priest which cannot be touched with the feeling of our infirmities; but was in all points tempted like as [ we are, yet ] without sin.
16 Let us therefore come boldly unto the throne of grace, that we may obtain mercy, and find grace to help in time of need."


- "Hebreus 4:14-16
14 Tendo, portanto, um grande sumo sacerdote, Jesus, Filho de Deus, que penetrou os céus, retenhamos firmemente a nossa confissão.
15 Porque não temos um sumo sacerdote que não possa compadecer-se das nossas fraquezas; porém um que, como nós, em tudo foi tentado, mas sem pecado.
16 Cheguemo-nos, pois, confiadamente ao trono da graça, para que recebamos misericórdia e achemos graça, a fim de sermos socorridos no momento oportuno."
2.3 FINALMENTE, alguns TIPOS DE CRISTO
(**)
2.3.1 O
Tabernáculo
(Êxodo 40:2,34 com Hebreus 9:11; Colossenses 2:9)
2.3.2 O
Templo
(1 Reis 6:1,38 com João 2:19,21)
2.3.3 O
Véu
do Tabernáculo e do Templo (Êxodo 40:21 2 Crônicas 3:14 com Hebreus 10:20)
2.3.4 A
Arca da Aliança
(Êxodo 25:16 com Salmo 40:8; Isaías 42:6; João 1:14)
2.3.5 A
Expiação
com sacrifícios nesse dia (Levítico 16:15,16 com Hebreus 9:12,24)
2.3.6 O
Altar de Bronze
(Êxodo 27:1,2 com Hebreus 13:10)
2.3.7 O
Candeeiro de Ouro
(Êxodo 25:31 com João 8:12)
2.3.8 O
Altar de Ouro
(Êxodo 40:5,26,27 com Apocalipse 8:13 e Hebreus 13:15)
2.3.9 A
Bacia de Bronze
(Êxodo 30:18-20 com Sofonias 13:1; Efésios 5:26,27)
2.3.10 O
Propiciatório
(Êxodo 25:17-22 com Romanos 3:25; Hebreus 4:16)
2.3.11 O
Cordeiro Pascal
(Êxodo 12:3-6,46 com João 19:36; 1 Coríntios 5:7)
2.3.12 O
Bode expiatório
(Levítico 16:20-22 com Isaías 53:6-12)
2.3.13 A
Mesa
e os
Pães da proposição
(Êxodo 25:23-30 com João 1:16; 6:48)
(*)
Conforme o Dicionário Bíblico Ilustrado para a Família
(**)
Fonte: Bíblia Vida Nova
• Rasgou-se o Véu (Alas! And did my Saviour Bleed)
Letra: Isaac Watts
Música: Hugh Wilson
http://www.hymnal.net/hymn.php?t=h&n=104
http://hymnal.calvarybaptistsv.org/368.html
http://www.a-voice.org/songbook/ghf110.htm
• Inglês
1. Alas! and did my Savior bleed
And did my Sovereign die?
Would He devote that sacred head
For such a worm as I?
2. Was it for crimes that I had done
He groaned upon the tree?
Amazing pity! grace unknown!
And love beyond degree!
3. Well might the sun in darkness hide
And shut his glories in,
When Christ, the mighty Maker died,
For man the creature's sin.
4. But drops of grief can ne'er repay
The debt of love I owe:
Here, Lord, I give my self away
'Tis all that I can do.
• Português
1. Rasgou-se o véu, e nunca mais, distância medirá.
Ao trono mesmo de meu Deus, minh'alma chegará.
2. Rasgou-se o véu, e feita está eterna redenção.
A alma pura e limpa já não teme a perdição.
3. Rasgou-se o véu, e Deus abriu os braços de Seu amor.
Entrar podemos onde entrou Jesus o Salvador.